Current Parish News
Next Meeting of the Parish Council
The next Parish Council meeting will be held on Tuesday, 21st January 2020 at 7.30pm in the Village Institute. The Parish Precept for 2020/21 will be set at this meeting. Members of the public are always welcome to attend.
LOCAL ROAD CLOSURE
The road between Redmire Station Approach and the bottom of Scarth Nick will be closed from Monday 13th January until Friday 17th January. Details here
Revised Rubbish Collection Dates - Christmas & New Year
| | | |
| --- | --- | --- |
| Normal Day | Revised Day | |
| Tuesday Dec 31st | Thursday Jan 2nd | (Recycling) |
| Tuesday Jan 7th | Wednesday Jan 8th | (Waste) |
PLEASE NOTE – Collections up to, and including, Tuesday 24th December are as normal.
Excess glass, cans and plastic recycling can be placed in open carrier bags but residents are asked to please remember to keep glass separate. Excess cardboard should be flat packed and placed beside the blue or white bag. Alternatively excess can be taken to the recycling centres located across the district, which will be open throughout the holidays.
Christmas cards and envelopes should be placed in the blue or white bag. However wrapping paper and tissue paper cannot be placed in your blue/white bag - it should be placed in the grey bin.
From 8th January there will be a 2 week collection of Christmas trees and Garden Waste (Subscribers only) on your collection day. Alternatively, they can be recycled at the Recycling Centre, Leyburn.
For further information contact : richmondshire.gov.uk or 01748 829100.
Yorkshire Post 2019 Rural Awards
Congratulations to Anne Moore who won the Rural Hero prize at the Yorkshire Post 2019 Rural Awards in October. Her many years of service to the community were recognised and a trophy was presented. Parish Councillor David Moore and his wife Carol and villagers Colin Gavin and John Hodgson were there to support her.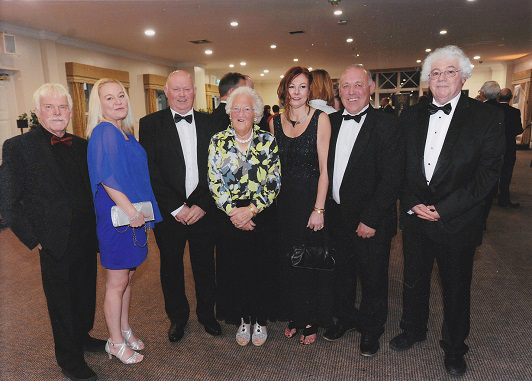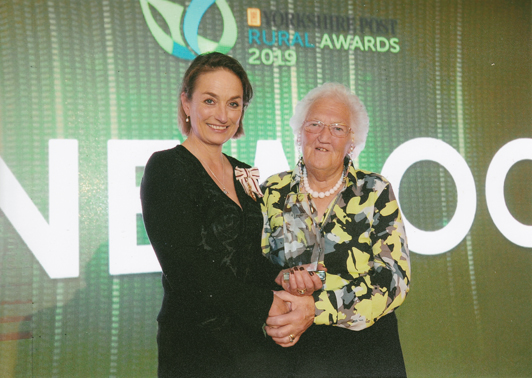 (Photos courtesy of Yorkshire Post)

A former Parish Councillor, Anne also celebrated her 80th birthday in early November and the village organised a secret party for her. Joan Hodgson would like to thank all those who contributed to a splendid afternoon that took Anne completely by surprise. People from across Wensleydale and Swaledale came along to wish Anne a happy birthday and Muker Silver Band provided the entertainment. Well done all.


Thank You
Laura Gavin would like to thank everybody for their generous support of the Poppy Appeal. £261.33 was raised, our best ever total.




Also, a big thank you from the Carperby Concert team to all those who attended the IOTA gig in September. A fantastic night was had by all and £450 was raised for MacMillan Cancer Support

Village Benches
A big thank you to Graham Hodge who has repainted the village benches this year. If you notice any benches that need renovation or repair please let a councillor know.

Upper Dales Area Partnership
If you have any issues you wish to raise in future at this forum please contact Councillor Amsden or Councillor Sheldon. The next meeting will be held in April 2020.

Update from the Central Dales Practice
'Flu Clinics – Bookings are now available and patients need to 'phone or call in to make an appointment. Vaccine for the over 65s is due to arrive at the end of September. Patients with a BMI of over 40 are entitled to a 'flu jab this year. Repeat prescriptions – Due to national difficulties in obtaining medication from suppliers, 3 days' notice is now required. Medicines can now be ordered 14 days in advance to try and prevent patients running out of their medication. Staffing – Dr Brown is retiring on December 31st. A GP who is willing to act as a locum, when needed, is moving into the area. Joy is now working part time as the Practice Nurse. Jane Martin started in August and works on Mondays & Tuesdays. Her speciality is Diabetes. Laura Dunn works 3 days as a Receptionist across both surgeries. Joanne Hammond is training to be the new phlebotomist and will also work in both surgeries. Dolly is coming back to the Aysgarth surgery 2/3 days a week as the Health Care Assistant.

Parish Forums
The Yorkshire Dales National Park Authority continues to hold a series of parish forum meetings, as a way to engage more closely with parish councils within the YDNPA. Please contact Councillor Amsden for details of the meeting and let the Parish Council know if there is anything you would like to be added to the future agendas. Details of the work of the forums can be found at http://www.yorkshiredales.org.uk/living-and-working/parish-councils-and-meetings/parish-forums

Low Lane
The Enforcement issue on Low Lane is still ongoing and the Parish Council are waiting for further information from the YDNPA Enforcement Officer.

Community First Responders - REMINDER
The First Responders are still looking to recruit additional volunteers to the team. This does not require a great deal of time and can easily be arranged around your work/family/social commitments. A short training programme and a qualification test are all that is needed. Even a small commitment would be helpful to them and the local Ambulance Service. If you are interested in joining or simply wish to know more about the service they provide, please contact David Brampton on 663561.

Parish Communications - A Reminder
Half of the households in the parish council area receive the newsletter by e-mail and about a third access information via the Facebook page. The Parish Council would like to increase this number and thus save some money on parish communications. If you would like to help, please send an e-mail to Councillor Sheldon at carperbyparish@btinternet.com, giving your e-mail address or make a friend request for the Facebook page.

Parish Council Facebook Page


There is a new Parish Council Facebook page that can be found here. If you are a Facebook user, send a Friend request and we will add you to the page.

DOG WASTE BINS IN CARPERBY

One of the issues to emerge from the recent Parish Plan Event in January was the continuing problem of dog waste in the village. The main problem seems to stem from visitors and it was felt that the location of the dog waste bins could be better advertised. IF YOU OWN A HOLIDAY LET IN THE VILLAGE OR USE YOUR SECOND HOME FOR FRIENDS AND VISITORS, PLEASE PRINT & DISPLAY THE ATTACHED MAP. More copies of the map are available from Councillor Sheldon at The Quarter House.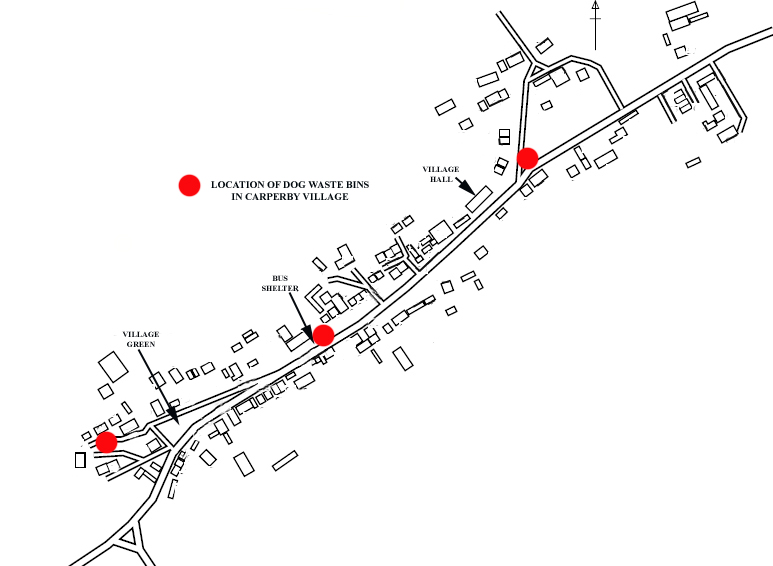 Upper Dales Health Watch
Follow this link for news.
Freeholders Wood - YDNPA coppicing plan can be viewed by clicking here. If you wish to speak to Geoff Garrett on matters relating to Freeholders Wood please contact him on 01756 751648.
A reminder that NHS dental provision in the area has been awarded to ADB (Alpha). They have bases in Hawes, Leyburn and Bedale. Residents can register with them by calling 01969 623999.
Anyone interested in volunteering for the local branch of Daleswatch should contact Councillor Brampton via the Parish Council e-mail address at carperbyparish@btinternet.com