Current Parish News
Annual Residents' Meeting
The Annual Residents' Meeting will be held on Monday 19th March 2018 in the Village Institute at 7.00pm. This will be followed by the next Parish Council meeting.
Parish Council Meeting
The next Parish Council meeting will be held on Monday, 19th March 2018 at 7.30pm in the Village Institute. Members of the public are always welcome to attend.
Freehoders' Wood - Estovers
Logs are now available at the bottom gate of Freeholders Wood. Please be considerate of the amount you take in order to ensure that everyone benefits. PLEASE NOTE - THIS WOOD IS FOR CARPERBY PARISH RESIDENTS ONLY. If you see, or hear of, anyone else taking wood please report it to one of the parish councillors or directly to a National Park Ranger.

Local Road Closures
The County Council continues to undertake highway maintenance work and a map that illustrates road closures, and also highlights the alternative routes for diverted traffic, can be viewed on-line by following this link:
https://roadworks.org?tm=193436
Changes to Bus Services - Service 156: Leyburn to Gayle
From Monday 6th November 2017, the following changes took take place:
Current 07.40 journey from Leyburn to Gayle will now depart 07.25.

Additional demand responsive journey from Leyburn to Gayle departing 17.20

Current 08.05 journey from Gayle to Leyburn will now depart at 08.15

Additional book in advance journey from Gayle to Leyburn departing 16.20

Journeys to/from Preston Under Scar Village – although Service 156 will continue to serve Preston Under Scar road end on a scheduled basis, the service will now only operate to/from the village centre on a demand responsive basis.

Journeys to/from Castle Bolton – although Service 156 will continue to service Castle Bolton road end on a scheduled basis, the service will now only operate to/from the village centre on a demand responsive basis.

Journeys 12.20 from Gayle to Thornton Rust & 08.27 from Thornton Rust to Leyburn will now operate on a demand responsive basis.
For further information about any of these changes please contact The Little White Bus on 01969 667400 or email uwco@btconnect.com
Wheels2Work Scheme
If you have problems travelling to work, training or education the Wheels 2 Work scheme may have the answer. Wheels 2 Work is a not for profit charity that has a fleet of mopeds for loan. Since its launch in 2001 hundreds of local people have benefitted from the scheme. Successful candidates receive a moped, safety equipment, insurance, tax and bike servicing for a small weekly contribution. To be eligible for the scheme you must live in North Yorkshire, be 16 or over, have no suitable transport to travel to work, training or education and hold a provisional licence. For more information and to apply online, visit www.hambletoncommunityaction.org or telephone Andy Reddick 01609 780458 Ext 209.
Defibrillator Awareness Evening – Follow Up
The Yorkshire Ambulance Service course on the village defibrillator was a great success. A significant number of residents attended the evening session and learned how to use CPR and the defibrillator in an emergency. The ambulance service representative recommended that the defibrillator code should be widely available, so please be aware that the equipment can be accessed with the box code C147. Many thanks to Councillor Brampton for organising the session.
Ambulance Service Community First Responders - REMINDER
The First Responders are still looking to recruit additional volunteers to the team. This does not require a great deal of time and can easily be arranged around your work/family/social commitments. However, there is a requirement to complete a local training programme in order to qualify. Responders currently cover weekday nights and all day at weekends and bank holidays. Even a small commitment would be helpful to them. If you are interested in joining or simply wish to know more about the service they provide, please contact David Brampton on 663561.
Upper Dales Area Partnership
The most recent meeting of the Upper Dales Area Partnership was held at Carperby Village Institute in July. Items discussed were: Community Land Trusts, Superfast Broadband North Yorkshire, Barn conversions in the Yorkshire Dales National Park, Electoral Boundary Review of Richmondshire District Council, Police take-over of the North Yorkshire Fire + Rescue Service, Ongoing reductions in emergency and urgent healthcare services at The Friarage Hospital and Threats to the future of rural small schools in North Yorkshire
If you have any issues you wish to raise at this forum please contact Councillor Amsden or Councillor Sheldon. Information on NYCC matters can be obtained by contacting Councillor John Blackie at 01969 667123 or email him at: cllr.j.blackie@richmondshire.gov.uk
Community Speed Watch

Community Speed Watch is a scheme designed to support local communities to improve road safety by allowing residents to address speed concerns in their community with the support of North Yorkshire Police.
This is achieved by enabling Community Residents to report to the Police the details of speeding vehicles in specific areas where speed is of concern. These speed monitoring reports enable the police to:
• Send advisory letters to the registered owners with the aim of informing them of the speed their vehicle was travelling at in excess of the speed limit
• Use the data gathered to inform Police and others on the allocation of resources and general road safety issues
• Support Community Residents to deliver locally based feedback and problem solving schemes where speeding is of specific concern to the community
The scheme is designed to reduce speeds and community fears, making drivers aware that excessive speed within posted limits is socially unacceptable.
There should be a minimum of six community residents in the group to initiate a scheme. The group will have a designated coordinator and deputy, responsible for the equipment and administration. Ongoing support will be provided by the Community Speed Watch Coordinator and North Yorkshire Police Volunteers. In the first instance, please contact Councillor Sheldon (663808) if you are interested in taking part in this project. If there are sufficient people in the village who wish to be involved the next steps can be taken.
Parish Council Accounts

The Parish Council accounts for 2016/17 are now available on the parish website via the Parish Papers page.


Revised Rubbish Collection Dates - Christmas & New Year
| | | |
| --- | --- | --- |
| Normal Day | Revised Day | |
| Tuesday Dec 26th | Thursday Dec 28th | (Waste) * |
| Tuesday Jan 2nd | Thursday Jan 4th | (Recycling) |
| Tuesday Jan 9th | Wednesday Jan 10th | (Waste) |
* RDC will collect up to four extra bags of household waste on this collection.
From 8th January there will be a 2 week collection of Christmas trees and Garden Waste (Subscribers only) on your collection day. Alternatively, they can be recycled at the Recycling Centre, Leyburn.
For further information contact richmondshire.gov.uk or 01748 829100.
Street Lighting
The County Council are proposing changes to street lighting. According to their information, the changes will not affect the lamp posts that we have in the village, but there will be changes to the type of lamp that is installed. More information can be found at https://www.northyorks.gov.uk/street-lighting-energy-reduction-programme
Thank You
Laura Gavin would like to thank everybody for their generous support of the Poppy Appeal. 2017 was the best effort yet with £258.33 raised, representing over 25% of the total raised in the district.
Parish Salt Bins
A reminder that the two Parish Council salt bins for the village are situated on Hargill and on the north side of the main village green. There is an additional RDC bin in Needham Garth. The salt is to be used on the untreated roads in bad weather conditions. Please do not use the salt for private drives.
Parish Council Facebook Page
There is a new Parish Council Facebook page that can be found here. If you are a Facebook user, send a Friend request and we will add you to the page.
Village Defibrillator
The defibrillator and case have now been fitted to the wall of the Village Institute, outside the Billiard Room. Plans are being made for at least one training day that residents will be able to attend.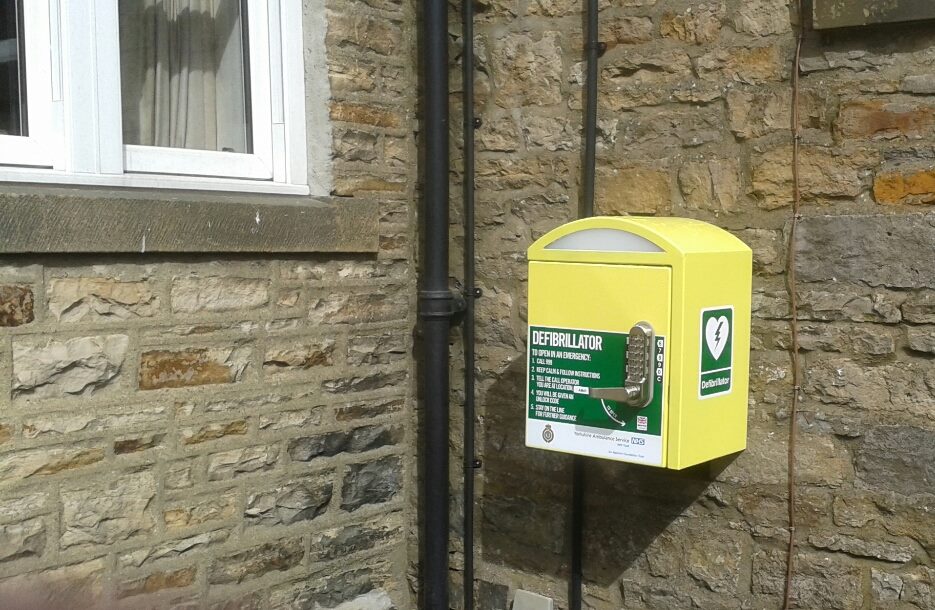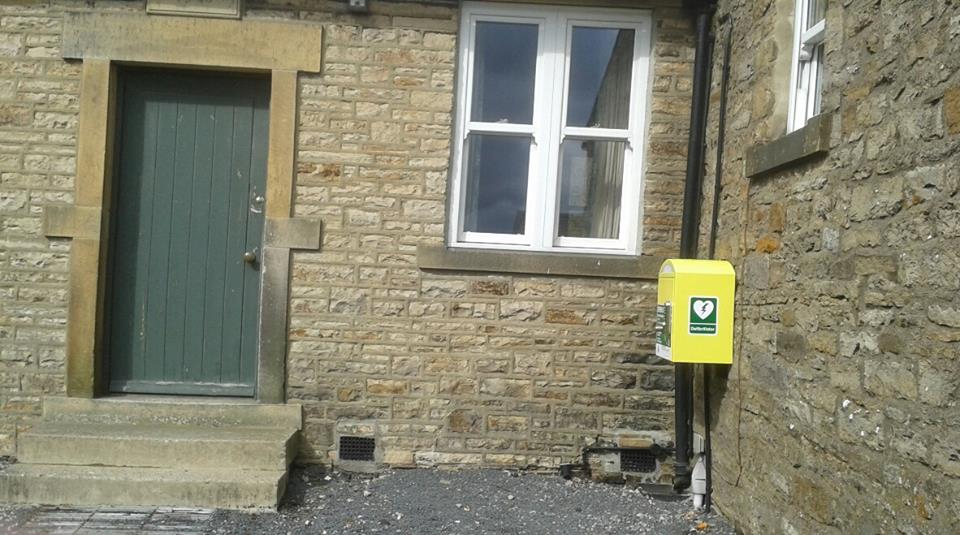 DOG WASTE BINS IN CARPERBY
One of the issues to emerge from the recent Parish Plan Event in January was the continuing problem of dog waste in the village. The main problem seems to stem from visitors and it was felt that the location of the dog waste bins could be better advertised. IF YOU OWN A HOLIDAY LET IN THE VILLAGE OR USE YOUR SECOND HOME FOR FRIENDS AND VISITORS, PLEASE PRINT & DISPLAY THE ATTACHED MAP. More copies of the map are available from Councillor Sheldon at The Quarter House.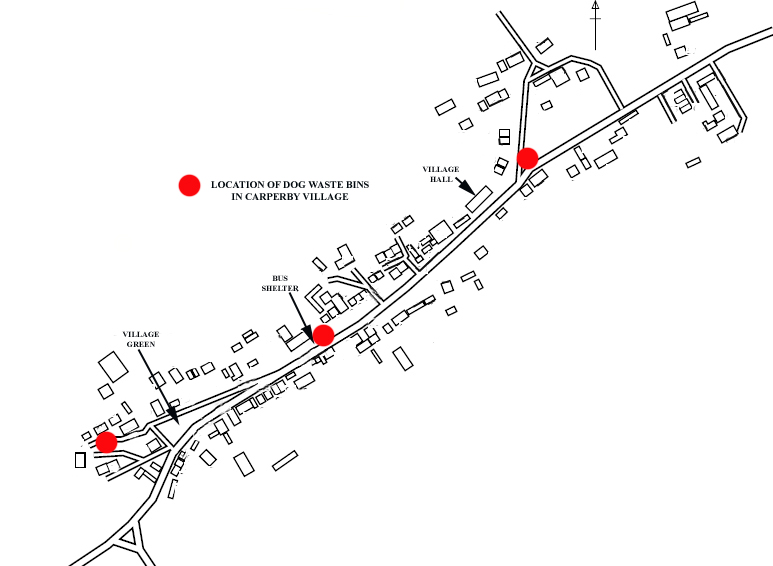 Upper Dales Health Watch
Follow this link for news.
Freeholders Wood - YDNPA coppicing plan can be viewed by clicking here. If you wish to speak to Geoff Garrett on matters relating to Freeholders Wood please contact him on 01756 751648.
A reminder that NHS dental provision in the area has been awarded to ADB (Alpha). They have bases in Hawes, Leyburn and Bedale. Residents can register with them by calling 01969 623999.
Anyone interested in volunteering for the local branch of Daleswatch should contact Councillor Brampton via the Parish Council e-mail address at carperbyparish@btinternet.com