Current Parish News
Parish Council Meeting
The next Parish Council meeting will be held on Monday, 14th January 2019 at 7.30pm in the Village Institute. The Parish Precept for 2019/20 will be set at this meeting. Members of the public are always welcome to attend.
First World War Commemoration Events
Over 60 people attended the commemorative service at Carperby War Memorial on Sunday, November 11th. In the evening there was also an excellent attendance at the beacon lighting ceremony on Hargill. The light from the beacon was seen over a considerable area of the dale. Thanks are due to Stuart Gatenby who built the beacon, Councillor Nick Oliver for organising the event and to Joan Hodgson and her helpers from the Luncheon Club who served food in the Village Institute during the evening. Joan would like to extend her own thanks to her associates, to the Parish Council for providing funds for the food and to all who supported the evening. Thanks to people's generosity, a £100 donation was sent to the Veterans Woodcraft organisation.
Village Signs
Councillor Amsden has created a small flower bed in front of each of the three village entry signs and has planted some daffodil bulbs. Some concern has been expressed about the visibility of the signs now that the stone surrounds have weathered in. The Parish Council has asked Councillor Amsden to look into the possibility of re-painting the village name in a brighter colour for the benefit of road users.
Parish Lands
The official access route to Town Tussocks is still being investigated by Councillor Oliver. Additionally, he and Councillor Moore will check on the current situation with regard to the wall around the Bull Land.
Aysgarth Cemetery Committee
After a lengthy stint as clerk to the Cemetery Committee, Ann Clarkson has retired and been replaced by Karen Prudden from Bainbridge. Councillor John Amsden is the new committee chairman.
Low Lane
The Parish Council has written to NYDNP, suggesting that a risk assessment should be conducted into the activity of trail bikers along Low Lane and the path that extends beyond. There is a concern that walkers and horse riders may be at risk.
Local Health Issues
People using the Patient Transport Services within Richmondshire are still facing problems that have not yet been resolved. The RDC Scrutiny Committee recently held a meeting with the Clinical Commissioning Group at which recent changes to the service were heavily criticised. It was suggested that a proper consultation should be undertaken to judge the extent of need. As yet, no response has been forthcoming.
Christmas Refuse Collection Days
| | | |
| --- | --- | --- |
| Normal Day | Revised Day | |
| Tuesday Dec 25th | Thursday Dec 27th | (Waste) * |
| Tuesday Jan 1st | Thursday Jan 3rd | (Recycling) |
| Tuesday Jan 8th | Wednesday Jan 9th | (Waste) |
* RDC will collect up to four extra bags of household waste on this collection.

Excess glass, cans and plastic recycling can be placed in open carrier bags but residents are asked to please remember to keep glass separate. Excess cardboard should be flat packed and placed beside the blue or white bag. Alternatively excess can be taken to the recycling centres located across the district, which will be open throughout the holidays.

Christmas cards and envelopes should be placed in the blue or white bag. However wrapping paper and tissue paper cannot be placed in your blue/white bag - it should be placed in the grey bin.

From 7th January there will be a 2 week collection of Christmas trees and Garden Waste (Subscribers only) on your collection day. Alternatively, they can be recycled at the Recycling Centre, Leyburn.

For further information contact : richmondshire.gov.uk or 01748 829100.

Thank You
Laura Gavin would like to thank everybody for their generous support of the Poppy Appeal. £236.65 was raised, representing approximately 20% of the total raised in the district.
Also, a big thank you from the Carperby Concert team to all those who attended the Gerry Colvin gig. A fantastic night was had by all and £522 was raised for Bainbridge & Askrigg Schools' PTFA

Parish Communications - A Reminder
Half of the households in the parish council area receive the newsletter by e-mail and about a third access information via the Facebook page. The Parish Council would like to increase this number and thus save some money on parish communications. If you would like to help, please send an e-mail to Councillor Sheldon at carperbyparish@btinternet.com, giving your e-mail address or make a friend request for the Facebook page.

Parish Salt Bins
A reminder that the two Parish Council salt bins for the village are situated on Hargill and on the north side of the main village green. There is an additional RDC bin in Needham Garth. The salt is to be used on the untreated roads in bad weather conditions. Please do not use the salt for private drives.

Upper Dales Area Partnership
If you have any issues you wish to raise in future at this forum please contact Councillor Amsden or Councillor Sheldon. Information on NYCC matters can be obtained by contacting Councillor John Blackie at 01969 667123 or email him at: cllr.j.blackie@richmondshire.gov.uk

Parish Council Accounts


The Parish Council accounts for 2017/18 are now available on the parish website via the Parish Papers page.

Local Road Closures


The County Council continues to undertake highway maintenance work and a map that illustrates road closures, and also highlights the alternative routes for diverted traffic, can be viewed on-line by following this link:

https://roadworks.org?tm=193436


Wheels2Work Scheme
If you have problems travelling to work, training or education

the Wheels 2 Work scheme may have the answer. Wheels 2 Work is a not for profit charity that has a fleet of mopeds for loan. Since its launch in 2001 hundreds of local people have benefitted from the scheme. Successful candidates receive a moped, safety equipment, insurance, tax and bike servicing for a small weekly contribution. To be eligible for the scheme you must live in North Yorkshire, be 16 or over, have no suitable transport to travel to work, training or education and hold a provisional licence. For more information and to apply online, visit www.hambletoncommunityaction.org or telephone Andy Reddick 01609 780458 Ext 209.

Ambulance Service Community First Responders - REMINDER
The First Responders are still looking to recruit additional volunteers to the team. This does not require a great deal of time and can easily be arranged around your work/family/social commitments. However, there is a requirement to complete a local training programme in order to qualify. Responders currently cover weekday nights and all day at weekends and bank holidays. Even a small commitment would be helpful to them. If you are interested in joining or simply wish to know more about the service they provide, please contact David Brampton on 663561.

Parish Council Facebook Page


There is a new Parish Council Facebook page that can be found here. If you are a Facebook user, send a Friend request and we will add you to the page.

DOG WASTE BINS IN CARPERBY

One of the issues to emerge from the recent Parish Plan Event in January was the continuing problem of dog waste in the village. The main problem seems to stem from visitors and it was felt that the location of the dog waste bins could be better advertised. IF YOU OWN A HOLIDAY LET IN THE VILLAGE OR USE YOUR SECOND HOME FOR FRIENDS AND VISITORS, PLEASE PRINT & DISPLAY THE ATTACHED MAP. More copies of the map are available from Councillor Sheldon at The Quarter House.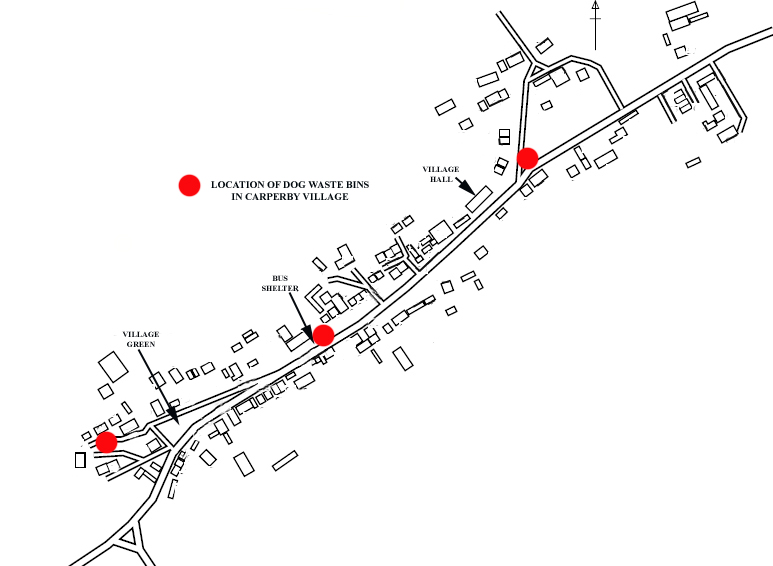 Upper Dales Health Watch
Follow this link for news.
Freeholders Wood - YDNPA coppicing plan can be viewed by clicking here. If you wish to speak to Geoff Garrett on matters relating to Freeholders Wood please contact him on 01756 751648.
A reminder that NHS dental provision in the area has been awarded to ADB (Alpha). They have bases in Hawes, Leyburn and Bedale. Residents can register with them by calling 01969 623999.
Anyone interested in volunteering for the local branch of Daleswatch should contact Councillor Brampton via the Parish Council e-mail address at carperbyparish@btinternet.com