Current Parish News

Parish Council Meeting
The next Parish Council meeting will be held at the Village Institute at 7.30pm on Monday, 16th July 2018. Members of the public are always welcome to attend.


Surface Dressing of Roads
North Yorkshire County Council Highways Department will begin a programme of road surfacing from 25th June. Full details can be found here.

County Councillor's Report

At the Parish Council meeting in May Councillor Blackie reported on a number of significant local topics. The loss of services and beds at the Friarage Hospital is still giving cause for concern and the issue has been raised at the County Council. On a more positive note, the CCG has finally confirmed that Darlington Hospital will retain its 24/7 A&E department and its Paediatrics service for the foreseeable future. With regard to the Boundary Commission report on RDC Ward re-structuring, Councillor Blackie was sorry that, despite earlier assurances, the final decision by the Commission had abolished the Castle Bolton ward. This means that Carperby will now be represented by the two councillors elected for the Leyburn ward. Two local councils had failed to support the proposed extension of the Castle Bolton ward and another had objected to it. The Community Housing Trust project is progressing in Arkengarthdale and a site in Hawes is being looked at for future development. Councillor Blackie expressed a hope that other places in the Upper Dales might follow suit as such projects offered the prospect of permanent and affordable rental accommodation.

Area Partnership Funding 2018-19

The Richmondshire Area Partnership grants scheme is now open for applications. The scheme supports groups within Richmondshire who wish to start new or continue existing projects which bring benefit to the local community. The full details and an application form can be found at https://www.richmondshire.gov.uk/community/grants/community-grants-schemes/. Applicants are able to bid for up to £1,000 through the scheme. Submitted bids will be considered during the next round of Partnership Meetings, with the subsequent scheduled Upper Dales meetings on Thursday 6th September 2018 or Wednesday 10th April 2019. The deadline for applications is 5pm on 13th August 2018. Submit completed applications to grants@richmondshire.gov.uk

Upper Dales Area Partnership

If you have any issues you wish to raise at this forum please contact Councillor Amsden or Councillor Sheldon. Information on NYCC matters can be obtained by contacting Councillor John Blackie at 01969 667123 or email him at: cllr.j.blackie@richmondshire.gov.uk

General Data Protection Regulations

As many of you are very aware by now, new General Data Protection Regulations came into force on May 25th. Residents should be aware that for the purpose of the newsletter the only data we hold are the names and e-mail addresses of those residents who have requested delivery of the newsletter by e-mail. None of that data is ever shared with anyone else or any other group or company. Only the Parish Clerk and newsletter editor have access to this information. If you wish to continue to receive communications from us by email or delivery, you do not need to do anything. Please contact Councillor Sheldon on 663808 if you have any concerns.

Community First Yorkshire – Hands Up for Trustees

Thinking about volunteering as a trustee for a local project or national cause, or looking at options for refreshing your trustee committee? Take a look at the free Hands Up for Trustees service which matches voluntary and community organisations across North Yorkshire with volunteers and employees who are looking for trustee roles. Take the first step to making a difference and register for the free service at www.handsupfortrustees.org.uk

Parish Forums

The Yorkshire Dales National Park Authority continues to hold a series of parish forum meetings, as a way to engage more closely with parish councils within the YDNPA. Notes from the recent Parish Forum held at West Burton Village Hall on Monday 23rd April have now been placed on the YDNPA website at http://www.yorkshiredales.org.uk/living-and-working/parish-councils-and-meetings/parish-forums. Also on that page, you will be able to view the PowerPoint presentation on the National Park Management Plan (NPMP) which was given at the meeting. Please let the Parish Council know if there is anything you would like to be added to the agenda.

Clicktrans.com Competition

A competition, "Your favourite cycling route in Yorkshire and the Humber" is being organised by Clicktrans.com for residents of the Yorkshire and the Humber regions. The aim of the initiative is to encourage people to a physical activity and promote bicycle touring in Yorkshire and the Humber region. To take part in the competition, you submit a project entitled: "My favourite cycling route in Yorkshire and the Humber". It may take a form of text, photography or video you have produced. The competition was launched on June 12th and the project submission deadline is July 12th. Submit entries via email to the address: competition@clicktrans.com. The best three projects will be selected by experts and awarded the following prizes: 1st prize: £ 450, 2nd prize: £ 250, 3rd prize: £ 100. If you are interested please contact Councillor Sheldon for more details.

Problems on Low Lane

The problem of increased traffic along Low Lane has been raised by residents. Trail bikers have been active in the area and there is a real concern that an accident will occur. YDNPA have been made aware of the issue. Additionally, the Parish Council has received correspondence related to the increased activity at Manor Grange. The council has passed this information on to the YDNPA Enforcement officer who is dealing with this problem. At the time of going to press, the situation was on-going.

School De-Federation

The proposed withdrawal of West Burton School from the BAWB federation will be discussed at a BAWB meeting on 11th July. BAWB will have the final say and their decision will have to be based on the evidence before them. If the decision is to allow the split, West Burton parents and supporters of the school will need to form a shadow board of governors that would work towards the school being independent from January 1st next year. If BAWB decided not to allow the school to de-federate parents could appeal to the Secretary of State.

Parish Council Accounts

The Parish Council accounts for 2017/18 are now available on the parish website via the Parish Papers page.

Revised Rubbish Collection Date
| | | |
| --- | --- | --- |
| Normal Day | Aug. Bank Hol. 2018 | Revised Date |
| Tuesday 28th August. | Recycling | Wednesday 29th August |
For further information contact richmondshire.gov.uk
Pavilion Bookings
The Parish Council discussed booking procedures at its May meeting. A new set of terms and conditions was recommended and bookings are now being accepted again.
Commemoration of the 1918 Armistice
The Parish Council will be supporting local events commemorating the centenary of the end of the First World War in November. A £400 NYCC grant has been obtained from Councillor Blackie to create a brazier that will be situated above Hargill, allowing a beacon to be lit on behalf of the parish. Councillor Oliver is negotiating with Bolton Estate regarding the placement of the beacon.
Local Road Closures
The County Council continues to undertake highway maintenance work and a map that illustrates road closures, and also highlights the alternative routes for diverted traffic, can be viewed on-line by following this link:
https://roadworks.org?tm=193436

Wheels2Work Scheme

If you have problems travelling to work, training or education

the Wheels 2 Work scheme may have the answer. Wheels 2 Work is a not for profit charity that has a fleet of mopeds for loan. Since its launch in 2001 hundreds of local people have benefitted from the scheme. Successful candidates receive a moped, safety equipment, insurance, tax and bike servicing for a small weekly contribution. To be eligible for the scheme you must live in North Yorkshire, be 16 or over, have no suitable transport to travel to work, training or education and hold a provisional licence. For more information and to apply online, visit www.hambletoncommunityaction.org or telephone Andy Reddick 01609 780458 Ext 209.
Ambulance Service Community First Responders - REMINDER
The First Responders are still looking to recruit additional volunteers to the team. This does not require a great deal of time and can easily be arranged around your work/family/social commitments. However, there is a requirement to complete a local training programme in order to qualify. Responders currently cover weekday nights and all day at weekends and bank holidays. Even a small commitment would be helpful to them. If you are interested in joining or simply wish to know more about the service they provide, please contact David Brampton on 663561.
Parish Council Facebook Page

There is a new Parish Council Facebook page that can be found here. If you are a Facebook user, send a Friend request and we will add you to the page.
DOG WASTE BINS IN CARPERBY
One of the issues to emerge from the recent Parish Plan Event in January was the continuing problem of dog waste in the village. The main problem seems to stem from visitors and it was felt that the location of the dog waste bins could be better advertised. IF YOU OWN A HOLIDAY LET IN THE VILLAGE OR USE YOUR SECOND HOME FOR FRIENDS AND VISITORS, PLEASE PRINT & DISPLAY THE ATTACHED MAP. More copies of the map are available from Councillor Sheldon at The Quarter House.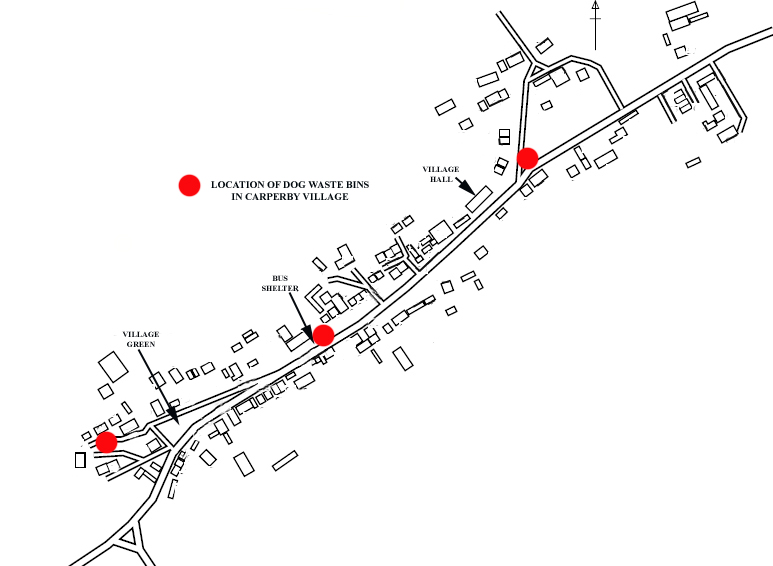 Upper Dales Health Watch
Follow this link for news.
Freeholders Wood - YDNPA coppicing plan can be viewed by clicking here. If you wish to speak to Geoff Garrett on matters relating to Freeholders Wood please contact him on 01756 751648.
A reminder that NHS dental provision in the area has been awarded to ADB (Alpha). They have bases in Hawes, Leyburn and Bedale. Residents can register with them by calling 01969 623999.
Anyone interested in volunteering for the local branch of Daleswatch should contact Councillor Brampton via the Parish Council e-mail address at carperbyparish@btinternet.com