Current Parish News
Parish Council Meeting
At the Annual Meeting of the Parish Council on May 17th Councillor John Amsden was elected as Chairman for 2021/22 and Councillor Steve Sheldon was elected as the Vice-Chairman. Also at the meeting the Annual Accounts were approved. A copy of the accounts and the annual return are available on the website.
The next Parish Council meeting will be held at the Village Institute at 7.30pm on Tuesday, 13th July 2021. Members of the public are always welcome to attend. PLEASE CONTACT THE PARISH CLERK (gillian.harrison1966@gmail.com) IF YOU WISH TO ATTEND, AS COVID MEASURES MAY STILL BE IN PLACE.
Village Institute AGM
The Annual General Meeting of the Village Institute took place on Wednesday 26th May. The meeting saw the retirement of two stalwarts of the Institute committee. Chairperson Jean Moore, who has served for over forty years, and Anne Moore, who served as Secretary for 28 years, both stepped down. A presentation of flowers, cut glass vases and restaurant vouchers was made to both ladies by Parish Council Chairman, John Amsden. He praised their dedication and the work that they had put in to making the Village Institute a viable concern. Both were instrumental in seeing the Institute through some difficult financial times and ensured that it had survived and now continues to thrive. Members of the village who were present at the meeting also expressed their thanks and appreciation for all that Jean and Anne had achieved. In their place the new Chairperson is David Moore and Tina Richard has taken over the role of Secretary.
Village Gardens' Day
This year the regular Open Gardens Day will be replaced by a Village Day on Sunday 4th July. The day will be open to residents only. However, if you have family or friends staying they can attend.
Open Gardens (for residents only) will run between 10am and 3pm. If you wish to open your garden, please contact Pauline Beckett on 663417 or via Village Whatsapp group. Garden maps will be available at the bus stop or at the Village Institute on the morning of July 4th.
A picnic will be held on the village green from 4pm onwards. In order to comply with current Covid-19 restrictions please bring your own food, drink & chair or picnic blanket and keep to the rule of 6.

For any queries, please contact Tina Richard via the village WhatsApp group or on 663953.

Pavilion 10th Anniversary
There will be a "10th Birthday Party" celebrating the anniversary of the opening of the Sports' Pavilion on Saturday 31st July. The event will start at 2pm with a football match between Carperby Rovers FC and Carperby Legends. This will be followed by Village Sports including races, tug-of-war, quoits & water slide. The Ramsay's Fish & Chip van will be present in the evening, there will be a licensed bar and Wensleydale Ice Creams will be on sale. There will also be live music from Broken Biscuits in the evening. PLEASE NOTE that this is a ticketed event. Tickets are £5 for adults and £2 for children. Each ticket includes fish & chips, an ice cream and a drink. TICKETS MUST BE PRE-ORDERED. Please contact Hazel (07866 804601 or hazel@wss-docs.co.uk) or Tina (663953). You can also contact them via the Village WhatsApp group if you are a member.
Please note that there may be changes to the programme in line with Covid rules.
Tree Planting
The memorial tree in memory of James Ashcroft will now be placed in the area behind the Sports' Pavilion. The ground will be cleared to create a small garden with an access path and, possibly, some seating. Work on the vegetation around the site will commence in the next few weeks and much of the rubble will be removed after this.
Problems on Low Lane
After extensive correspondence and the intervention of the local MP, the Parish Council has now received up-to-date information from NYDNPA regarding the issues along Low Lane that were first raised four years ago. Whilst the issues have not been fully resolved, there seems to be a more co-operative stance being taken and it is hoped that this will lead to a satisfactory conclusion to the problem. If you have any concerns about the activity along Low Lane please contact Councillor John Amsden in the first instance.
Parish Council Facebook Page & E-mail
PLEASE DON'T FORGET the Parish Council Facebook page that can be found at https://www.facebook.com/profile.php?id=100011183197655 If you are a Facebook user, send a Friend request and we will add you to the page. Important information appears here first.
If you wish to receive the newsletter via email, please send a message to carperbyparish@btinternet.com
Revised Rubbish Collection Date
| | | |
| --- | --- | --- |
| Normal Day | Aug. Bank Hol. 2021 | Revised Date |
| Tuesday 31st August | Household Waste | Wednesday 1st September |
For further information contact richmondshire.gov.uk

Area Partnership Fund
The Area Partnership Fund is now open for applications. The application form can be found at https://www.richmondshire.gov.uk/.../area-partnerships/ . All applications should be completed using the online form unless there are restrictive circumstances. The fund has previously supported village halls, flood prevention work, speed prevention, scout groups, community noticeboards, defibrillators, sport groups, play parks, community benches, etc. Closing date for applications is Friday 30th July.

Covid-19 - Government Regulations
The most up-to-date government advice can be found at https://www.gov.uk/coronavirus


Community Funding
Two new funding streams are available for supporting grass roots organisations and sports clubs which may be of interest.
ClubsInCrisis
Funding will be made available for eligible grassroots sports clubs and organisations through the local Community Foundations links below. In order to be eligible, clubs must provide clear evidence of how they use sport to help young people develop life skills, employment opportunities, reduce crime and anti-social behaviour or tackle mental health issues.
To get involved with the #ClubsInCrisis Fund, follow the three steps as mentioned below:
STEP ONE - Read the FAQs to find if your clubs is eligible for funding
STEP TWO - Find the right Community Foundation to apply for funding via our Postcode Tool
STEP THREE - Complete Steps one and two and apply from the 12th April.
https://www.madebysport.com/clubsincrisis




The Choose Now, Change Lives
One-off grants of between £1,000 and £10,000 are available to community groups to support them in delivering projects or activities that will facilitate change and benefit local people. Deadline for round 1 is 23rd May 2021.
Boost will support a range of community groups and organisations and help them make a difference in their local areas to truly facilitate change. With a focus on diversity, impact and legacy, Boost would like to support projects that benefit a diverse range of beneficiaries with high impact project ideas. They would like these projects to benefit communities for years to come, leaving a lasting legacy for the community to enjoy and benefit from. https://www.boostdrinks.com/changelives/

Village WhatsApp Group
Carperby village now has an active WhatsApp group. Should anyone wish to join the village group, please message Tina Richard on 0771 5045600. In order to join you will need to have a smart phone and download the app. Tina can help if you have any doubts or queries. WhatsApp is a free messaging application that lets users text, chat, and share media, including voice messages and video, with individuals or groups. It relies on data (broadband/4G) to send messages, so it doesn't cut into your monthly text allotment. Every message and call is end-to-end encrypted by default, so WhatsApp is quite secure for virtually all users. This level of encryption means not even WhatsApp can see the content of your messages, despite what you might hear online.

Vehicle Activated Speed Signs
A number of residents have enquired about the possibility of having vehicle activated speed signs in the village. At the request of the Parish Council, NYC Councillor Peacock contacted the County Highways Department. They have sent information regarding the procedures, requirements and costs of installing these signs and it is intended to submit this information to the Annual Residents' Meeting in May, as the cost will devolve upon the Parish Council.

Upper Dales Area Partnership
The date for the next meeting is Wednesday 29th September 2021. Please contact Councillors Amsden or Sheldon if you would like anything to be discussed at the meetings.

Parish Forums
The Yorkshire Dales National Park Authority hopes to continue to hold a series of parish forum meetings, as a way to engage more closely with parish councils within the YDNPA. Please contact Councillor Amsden for details of the meeting and let the Parish Council know if there is anything you would like to be added to the future agendas. Details here: http://www.yorkshiredales.org.uk/living-and-working/parish-councils-and-meetings/parish-forums

AYSGARTH SURGERY - EVENING APPOINTMENTS
A quick reminder that appointments are available at Aysgarth Surgery on Tuesday evenings for those needing to see a doctor after work.

Community First Responders - REMINDER
The First Responders are still looking to recruit additional volunteers to the team. This does not require a great deal of time and can easily be arranged around your work/family/social commitments. A short training programme and a qualification test are all that is needed. Even a small commitment would be helpful to them and the local Ambulance Service. If you are interested in joining or simply wish to know more about the service they provide, please contact David Brampton on 663561.

DOG WASTE BINS IN CARPERBY

One of the issues to emerge from the recent Parish Plan Event in January was the continuing problem of dog waste in the village. The main problem seems to stem from visitors and it was felt that the location of the dog waste bins could be better advertised. IF YOU OWN A HOLIDAY LET IN THE VILLAGE OR USE YOUR SECOND HOME FOR FRIENDS AND VISITORS, PLEASE PRINT & DISPLAY THE ATTACHED MAP. More copies of the map are available from Councillor Sheldon at The Quarter House.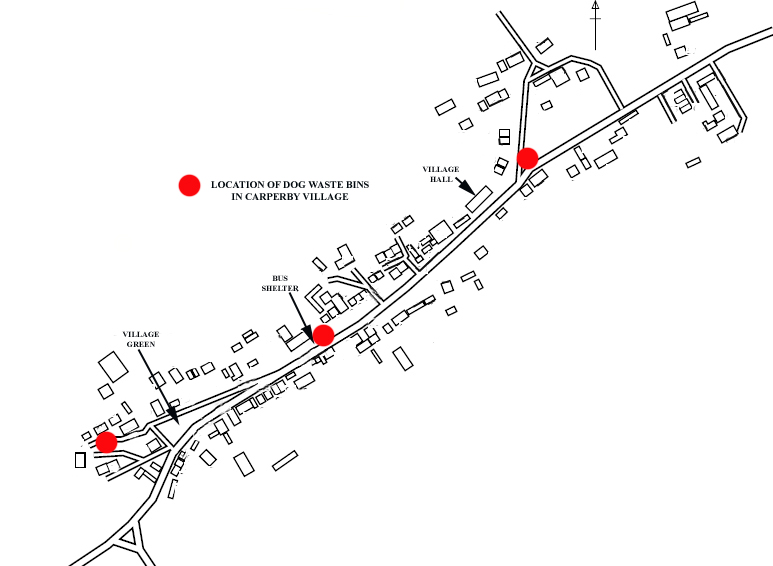 Upper Dales Health Watch
Follow this link for news.
Freeholders Wood - YDNPA coppicing plan can be viewed by clicking here. If you wish to speak to Geoff Garrett on matters relating to Freeholders Wood please contact him on 01756 751648.
A reminder that NHS dental provision in the area has been awarded to ADB (Alpha). They have bases in Hawes, Leyburn and Bedale. Residents can register with them by calling 01969 623999.
Anyone interested in volunteering for the local branch of Daleswatch should contact Councillor Brampton via the Parish Council e-mail address at carperbyparish@btinternet.com