Current Parish News
Parish Council Meeting
The next Parish Council meeting will be held at the Village Institute at 7.30pm on Monday, 26th November 2018. Members of the public are always welcome to attend. PLEASE NOTE NEW DATE
Commemoration of the 1918 Armistice - Events in Carperby
Shopping Trip to Newcastle
There will be a shopping trip to Newcastle on Wednesday 14th November. The coach will leave Carperby Bus Shelter at 9.30am. If you are interested in reserving a place, please call Jane on 663074.
Upper Dales Area Partnership
The most recent meeting of the Upper Dales Area Partnership was held at Thornton Rust Village Hall on September 6th. Grants were distributed to the organisations in the Upper Dales that had made bids for the Area Partnership funds and other items for discussion included health issues and local public conveniences. More details can be obtained from Councillor Amsden or www.richmondshiretoday.co.uk/13-dales-groups-get-grants. If you have any issues you wish to raise in future at this forum please contact Councillor Amsden or Councillor Sheldon. Information on NYCC matters can be obtained by contacting Councillor John Blackie at 01969 667123 or email him at: cllr.j.blackie@richmondshire.gov.uk
Parish Forums
The Yorkshire Dales National Park Authority continues to hold a series of parish forum meetings, as a way to engage more closely with parish councils within the YDNPA. The next meeting for the Northern Parishes Forum will be held at Fremington Parish Hall(Sunday School) on Monday 8th October at 7pm. Please let the Parish Council know if there is anything you would like to be added to the future agendas. Details of the work of the forums can be found at http://www.yorkshiredales.org.uk/living-and-working/parish-councils-and-meetings/parish-forums
Upper Dales Health Watch / Health Issues
At a recent meeting of the Upper Dales Health Watch, Burton-cum-Walden Parish councillor Jane Ritchie reported that the key issue for the Hambleton, Richmondshire and Whitby Clinical Commissioning Group (CCG), on which she is a local representative, was the future of the Friarage Hospital. She said there was likely to be a consultation on possible options. Another key problem was the shortage of radiologists and anaesthetists. She also emphasised the need to support local doctors' surgeries by obtaining medicines from them rather than via the internet. Disability Grants are available from RDC. The council does not carry out means tests on items that cost under £1,000 but might make a considerable difference to the safe mobility of elderly people. Grants for disabled children are not means tested at all. Some people have experienced difficulties in contacting the out-of-hours doctors' service. Between 6.00pm – 8.30am patients should use the 111 number to get medical advice.
There will be 2 types of 'flu vaccine this year. During September patients aged 64 and under will be invited in to receive one type, and in October patients aged 65 and over will be asked in to receive a different type. Patients using this service at one of the two surgeries will help the financial viability of the Central Dales Practice.
From 1st October Miss Fiona Morrison will be joining the Central Dales Practice as an Advanced Nurse Practitioner. She will work 3 days a week at Aysgarth and 1 day at Hawes. She is currently working at the Harewood Practice, so knows Richmondshire. Fiona will be on the GP rota and will be able to do most things a GP can do. This will mean there will be a balance of male & female practitioners at both surgeries. She is a child safeguarding specialist and has worked for the Army.
Richmondshire Local Plan Review - Issues and Options Consultation
Richmondshire District Council is reviewing its Local Plan Core Strategy and has begun the preparation of a revised Local Plan by publishing an Issues and Options document for consultation. The council is inviting representations on the Local Plan Review Issues and Options from 3 September to 31 October 2018. The scope of the Issues and Options consultation is to identify the key strategic issues and opportunities the revised Local Plan should address. It also outlines for consideration some options and initial ideas for the strategic policies in certain areas such as the scale and location of housing and economic development. The Issues and Options paper, questionnaire and other details are on the council's website at www.richmondshire.gov.uk/local-plan-review They are also available for viewing at the main council offices at Mercury House, Richmond and Leyburn Library during opening hours. Four drop-in sessions will be held by the planning policy team which are open for anybody to attend to obtain further information on the consultation. The nearest to Carperby will be held at Leyburn - Thornborough Hall, Leyburn – Thursday 27 September (3pm-7pm)
Representations should preferably be made using the online questionnaire which can be saved and returned to later. You can also print your completed form before submission if you choose.
Alternatively, representations should be emailed to localplan@richmondshire.gov.uk or posted to Planning Policy, Richmondshire District Council, Mercury House, Station Road, Richmond, DL10 4JX. The deadline for representations is 5pm on Wednesday 31 October 2018. Late representations will not be considered. Once the consultation closes, RDC will read and analyse all representations. Your views, along with the evidence that supports the Local Plan and the outcome of the Sustainability Appraisal, will be used to help develop the new Local Plan to the next stage of Preferred Options. This is where the best strategy to deliver Richmondshire's needs will be set out and this will also be subject to public consultation.
Drones
Concerns have been expressed by some residents regarding the flying of drones over the village recently. If you are worried by this please contact the police, who will have details of the latest laws regulating drones.
Recycling
Recycling in Richmondshire is under review and there will be a site visit to the Allerton Recycling Plant by RDC councillors in the near future. More when we know about it.
Open Gardens
A big thank you to all who were involved in the Open Gardens Day in July. Over £2000 was raised for the Village Institute.
Volunteer Drivers Wanted
Garget Walker House Day Centre in Richmond urgently need volunteer drivers to transport people with dementia to and from the centre. If you think you can help please ring 01748 825832 and speak to Liz from the Friends organisation.
General Data Protection Regulations
As many of you are very aware by now, new General Data Protection Regulations came into force on May 25th. Residents should be aware that for the purpose of the newsletter the only data we hold are the names and e-mail addresses of those residents who have requested delivery of the newsletter by e-mail. None of that data is ever shared with anyone else or any other group or company. Only the Parish Clerk and newsletter editor have access to this information. If you wish to continue to receive communications from us by email or delivery, you do not need to do anything. Please contact Councillor Sheldon on 663808 if you have any concerns.
Parish Council Accounts
The Parish Council accounts for 2017/18 are now available on the parish website via the Parish Papers page.
Revised Rubbish Collection Date
Local Road Closures
The County Council continues to undertake highway maintenance work and a map that illustrates road closures, and also highlights the alternative routes for diverted traffic, can be viewed on-line by following this link:
https://roadworks.org?tm=193436

Wheels2Work Scheme

If you have problems travelling to work, training or education

the Wheels 2 Work scheme may have the answer. Wheels 2 Work is a not for profit charity that has a fleet of mopeds for loan. Since its launch in 2001 hundreds of local people have benefitted from the scheme. Successful candidates receive a moped, safety equipment, insurance, tax and bike servicing for a small weekly contribution. To be eligible for the scheme you must live in North Yorkshire, be 16 or over, have no suitable transport to travel to work, training or education and hold a provisional licence. For more information and to apply online, visit www.hambletoncommunityaction.org or telephone Andy Reddick 01609 780458 Ext 209.
Ambulance Service Community First Responders - REMINDER
The First Responders are still looking to recruit additional volunteers to the team. This does not require a great deal of time and can easily be arranged around your work/family/social commitments. However, there is a requirement to complete a local training programme in order to qualify. Responders currently cover weekday nights and all day at weekends and bank holidays. Even a small commitment would be helpful to them. If you are interested in joining or simply wish to know more about the service they provide, please contact David Brampton on 663561.
Parish Council Facebook Page

There is a new Parish Council Facebook page that can be found here. If you are a Facebook user, send a Friend request and we will add you to the page.
DOG WASTE BINS IN CARPERBY
One of the issues to emerge from the recent Parish Plan Event in January was the continuing problem of dog waste in the village. The main problem seems to stem from visitors and it was felt that the location of the dog waste bins could be better advertised. IF YOU OWN A HOLIDAY LET IN THE VILLAGE OR USE YOUR SECOND HOME FOR FRIENDS AND VISITORS, PLEASE PRINT & DISPLAY THE ATTACHED MAP. More copies of the map are available from Councillor Sheldon at The Quarter House.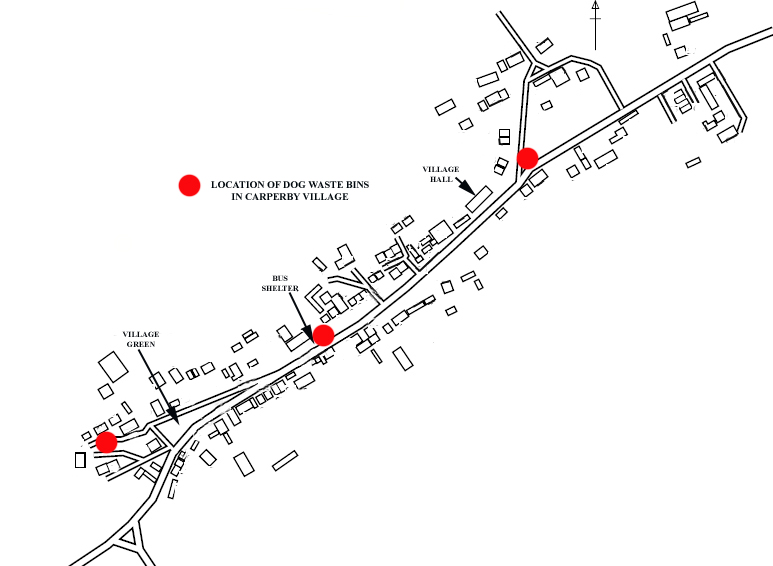 Upper Dales Health Watch
Follow this link for news.
Freeholders Wood - YDNPA coppicing plan can be viewed by clicking here. If you wish to speak to Geoff Garrett on matters relating to Freeholders Wood please contact him on 01756 751648.
A reminder that NHS dental provision in the area has been awarded to ADB (Alpha). They have bases in Hawes, Leyburn and Bedale. Residents can register with them by calling 01969 623999.
Anyone interested in volunteering for the local branch of Daleswatch should contact Councillor Brampton via the Parish Council e-mail address at carperbyparish@btinternet.com